This weekly link-up
is an extension of our Marriage & Mommyhood (in)courage Community Group! Though our group is currently full, you can still read more about it below.
I highly recommend connecting with other (in)courage groups.
You can find them here. :)
Groups are offered in categories such as: Artists, Bible Study, Caregivers, Chronic Illness/Homebound, Depression, Empty Nesters, Fitness/Lifestyle, Hurting Families, Infertility, Marriage Mentors, Military Wives, Moms of Teens, Motherhood, New Moms, Single Gals, Single Moms, Social Justice, Special Needs Stories, Working Moms, Women Over 50, and Writers.
We need each other, and there is a place for you. :)
Who is it for?
This weekly link-up is for all of us. Every woman who is struggling to balance the blessings of being both wife and mommy, and who could use a little grace and encouragement along the way!
When will it be?
Where can we find it?
Right here on

From My Mountain View

, and at Kayse's blog (

kaysepratt.com

)!! We'll both be your hosts every week, so you may link up via the inlinkz widget on either of our sites!
We'll be writing separate posts on each topic so I encourage you to interact with both of us. You can also interact with us throughout the week on twitter and instagram, using the hashtag: #marriageandmommyhood
What will we write about?
We know that we can only fill our roles well when we're walking with our Savior, and we'll be diving into what that looks like each week! We'll be delving deep, laughing freely, and sharing honestly as we reach towards this common goal.
Session Two

just began on 2/12/2013 and runs through 4/28/2013. We're tickled pink!! Posts in this series are taken from the "No More Desperate Moms Resolution" from

desperatemom.com

, which you can view

here

or download the PDF for free

here

. So you will be able to link up whether you've read the book or not! (Though I cannot recommend it enough! It truly is "hope for the mom who needs to breathe.")
Week 02, Feb 20: I will remember that I am not alone in my feelings of inadequacy.
Week 03, Feb 27: I will remember to accept my limitation with grace, and also remember that one day, this season of little ones will be over.
Week 04, Mar 06: I will commit to making my relationship with my spouse a priority, knowing we are partners in the raising of the eternal souls in our care.
Week 05, Mar 13: I will pursue friendships with other moms.
Week 06, Mar 20: I will not feel guilty for taking time for myself to refresh my soul.
Week 07, Mar 27: I will fill myself with good things in order to keep growing as a person.
Week 08, Apr 03: I will talk to my children about the importance of serving others.
Week 09, Apr 10: I will not compare myself with other moms, but instead be the mom God made me to be.
Week 10, Apr 17: I will remember the hard years of raising little ones so that one day I will help a mother of little ones. I will do for another mom what I wish someone would have done for me.
Week 11, Apr 24: I will remember to look my babies in the eye, nibble their toes, nuzzle in their necks, dance with them, giggle with them, and remember in whose image they were created.
During Session One

, which was held 10-2-2012 through 12-2-2012, we focused on being a Super Woman VS. Abiding Woman. Posts in this series include --
You are welcome to link up a post on the topic, or a post that you have written on the general topics of marriage mommyhood. All posts need to have a positive focus, as our goal is mutual encouragement.
Grab our button:
(image dimensions 150 x 150px)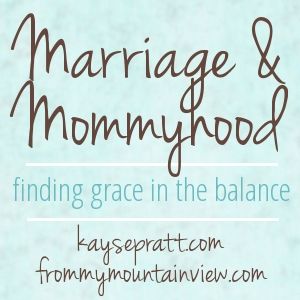 (image dimensions 300 x 300px)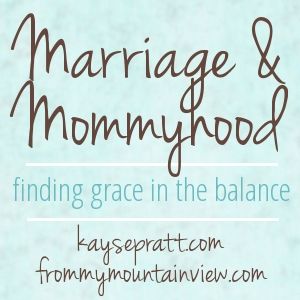 More on how this got started:
Almost ten years ago, I met this guy named Aaron.




After seven months, I married him.




Only ten months after that, I gave birth to our first child: a healthy, but premature baby girl.




My friend, Kayse, and I share similar stories, and what she says about our beginnings is indeed correct--




That's a LOT of new in such a short period of time! -A lot of new to grow into very fast.
But no matter how long or short you've been married or had kids, it's hard work. Worth it, but hard.

It was harder than either Aaron or I expected it to be, and yet it was more glorious than either of us expected as well. God made us a home in one another, through many good times and many bad times, and He has brought us through. As I write this, we now have been married nine years, have four daughters, and one baby born to heaven. :)
Some days the happy outweighs the hard by leaps and bounds. But there are other days where the hard outweighs everything else.

It's the day-to-day where it's easy for me to get "lost" in. Intentionality is key, being real, loving my husband more than who is "right," and clinging to Jesus' side. But all of that is so much easier said than done, isn't it?



To be real with you, friends, there have been moments when I wasn't sure about the future or how I could go on.

While being a wife and mother is what I have always desired to be and is a huge, indescribable blessing… some days it feels like anything but a blessing, and weighs heavy on me.

I can honestly say from experience that as you continually choose what God has given you...man! He blesses and solidifies covenant and hearts and minds, even emotions and thought processes.


But oh, how we (women) need each other!!!

Women to encourage, receive encouragement from, glean and learn heartily from. God surely knew what He was doing when He had Paul write Titus 2! ;-) We women need to come together in a place of honesty, transparency, and community; sharing openly the joys and the struggles of life as wife and mommy.

We need a place full of grace, encouragement, and understanding, where we can simply be ourselves and embrace one another.

While we already have access to everything we'll need along the way through Jesus,

we were never meant to do this alone, friends.
So, in hopes of encouraging authentic community, Kayse (from kaysepratt.com) and I were asked to lead an (in)courage community group (hosted by the folks over at (in)courage through DaySpring) focusing on the balance between the roles of wife and mom.
We'd like to invite you to join us as we figure out how to gracefully mesh marriage and mommyhood in a way that brings more peace than panic.

We'll be talking honestly about our joys and our struggles, bonding over date nights and diapers, and encouraging one another in the roles that God has given us.