I

woke this morning thinking hard the words, "I can't do this. I just can't do this today."
We've been in the process of a move. It's been a lot. It's been hard and heavy moving with four children, ages three months to eight years. It's been harder than it
should be
because I pulled a muscle pretty bad in my back almost a month ago (it's difficult for mommas to heal from things like this because we're always
doing
) and our sweet two year old is very, very much full swing in the "terrific twos."
The sound of both babes woke me still in the dark this morning and the twinge of sharp pain immediately followed. It's easy to fall prey to feelings and thoughts of inadequacy when we as mommas
aren't
sick or injured, but when we
are??
My brain is overwhelmed with all the things that need doing and I'm so mad that I'm limited physically right now. I am in good spirits. But feelings surround me that
it's all just too much.
But "God won't give me more than I can handle," right??
Actually God never said that, Mother Teresa did.
"I know God won't give me anything I can't handle. I just wish he didn't trust me so much."
This is not a verse found in the Bible. I say that with all love and respect to her, her heart, and everything she accomplished for God's Kingdom while on this earth. I am of the opinion that the intent with that statement was misunderstood and "ran with" by good-intentioned people. In fact, we see the opposite in scripture. People are constantly dealt impossible tasks and we see God repeatedly show up in all faithfulness in their response of dependance to Him.
2 Corinthians 1:8-10 amplified

"For we do not want you to be uninformed, brethren, about the affliction and oppressing distress which befell us in [the province of] Asia, how we were so utterly and unbearably weighed down and crushed that we despaired even of life [itself]. Indeed, we felt within ourselves that we had received the [very] sentence of death, but that was to keep us from trusting in and depending on ourselves instead of on God Who raises the dead. [For it is He] Who rescued and saved us from such a perilous death, and He will still rescue and save us; in and on Him we have set our hope (our joyful and confident expectation) that He will again deliver us [from danger and destruction and draw us to Himself]"
I am not
meant
to be able to handle all this world throws at me! I am meant to give all these stresses to the
One
who can. The
One
who is never overwhelmed by what's going on in my life.
He is faithful.
Matthew 11:28 amplified

Come to Me, all you who labor and are heavy-laden and overburdened, and I will cause you to rest. [I will ease and relieve and refresh your souls.]
"I hope this gives you some freedom today knowing that you are not meant to carry the things that are you weighing you down. Remember: God won't give you anything HE can't handle...and He promises that His burden is light." -Erin @ Better Than Doing Laundry
---------------------------------------------
I bless you today
with eyes to see them and hearts to recognize them
-
the blessings in disguise. Eucharisteo.
Psalm 118:24 (amp)

"This is the day which the Lord has brought about;

we will rejoice and be glad in it!"
I desire to recognize what is my part of the "manic" in Mondays, and do what I can to change it.
I desire to live abundantly in the Mondays.
I desire to thrive in each day; to dance them in along with the sun.
(Subscribers, you can click here to come on over to read more encouragement
linked up by other women in this community.)
----------------------------------------
Happy Monday, beautiful ladies!!!
There are so many beautiful things about Mondays. Here at From My Mountain View, every Monday, we band together and renounce/reject manic Mondays. Right here is a perfect place for us to encourage one another and be encouraged!


Moms Against Manic Mondays is a place you can share a post about:
Mondays - Encouragement - Joy - Pressing On - etc.
Share a link to your post using the widget at the end of this post (it's easy)!

Remember to link your blog post back here by adding our adorable button found below, courtesy of Plumrose Lane.

And then you need to visit the person who linked up before you & encourage them in their comments (which is the heart of this community).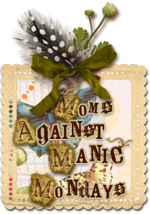 Moms Against Manic Mondays - A Day to Encourage & Be Encouraged.
Let's press on together as we dance the mornings in along with the sun. :)
(Cannot add links: Registration/trial expired)