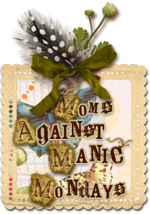 Happy Monday, beautiful ladies!!!

There are so many beautiful things about Mondays.

Here at From My Mountain View, every Monday, we band together and renounce/reject manic Mondays. Right here is a perfect place for us to encourage one another and be encouraged!

Moms Against Manic Mondays is a place you can share a post or article on your blog about:

Mondays - Encouragement - Joy - Pressing On - etc.

Share a link to your post using the widget at the end of this post (it's easy)!

Remember to link your blog post back here by adding our adorable button found

below

, courtesy of Plumrose Lane.
And then you need to visit the person who linked up before you & encourage them in their comments (which is the heart of this community).



----------------------------------------





I'm praying for you today.

I'm praying that God's presence might be in your home today so evidently that it might call to the strengths in your children and minister to them His love and more learning how to share it to each other and you. I pray that you might be able to experience fellowship with Him as if you were in yall's "special place" (mine is at the piano) all day long.



Y

ou are lead worshiper for your children in this beautiful, yet

desperate

at times, mommy-ness. I pray as you lead today, your children will follow. Their flesh may clash at times; remember that truth walks hand in hand with grace.

I pray His Spirit might equip in you, specifically for today, effectiveness in your ministry of motherhood. Even more, that an overflow would build your physical strength and stamina to match the spiritual strength and passion that He swells within you.

Don't waste time trying to pick up the pieces of yesterday; keeping a scorecard of your accomplishments or

intimacy

with Him. Today is a new day. Fully live in it; in Him.

I bless you today

with eyes to see them and hearts to recognize them

-

the blessings in disguise. Eucharisteo.

Psalm 118:24 (amp)

"This is the day which the Lord has brought about;
we will rejoice and be glad in it!"


I desire to recognize what is my part of the "manic" in Mondays, and do what I can to change it.

I desire to live abundantly in the Mondays.

I desire to thrive in each day; to dance them in along with the sun.
(Subscribers, you can click here to com

e

on over to read more

encouragement

linked up by

other women in this community.)


----------------------------------------