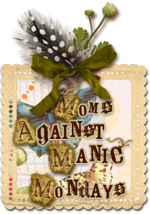 Happy Monday, beautiful ladies!!!
There are so many beautiful things about Mondays.

Here at From My Mountain View, every Monday, we band together and renounce/reject manic Mondays.

Right here is a perfect place for us to encourage one another and be encouraged!
Moms Against Manic Mondays is a place you can share a post or article on your blog about:
Mondays - Encouragement - Joy - Pressing On - etc.
Share a link to your post using the widget at the end of this post (it's easy)!

Remember to link your blog post back here by adding our adorable button found

below

, courtesy of Plumrose Lane.
And then you need to visit the person who linked up before you & encourage them in their comments (which is the heart of this community).

----------------------------------------
I have played the piano as long as I can remember. I have a photo of myself sitting on my mother's lap as a baby in front of her old upright.
I have a keyboard, which is wonderful and I am so thankful for it. However, electric is simply never a complete substitute for the real thing. Those strings, hammers, full echoing sound, touch, and so much more.

My husband bought me our family a piano

yester

day. :)

It was an extraordinary event. A God-story. There are truly never pianos in decent condition on websites for classifieds for less than a pretty penny. I was the first one to email about this listing (which never seems to happen, right?). For less than our budget for one, we scored this beauty.

It needs a good tuning, and two keys stick a bit that need to be repaired. But I am absolutely, positively tickled pink. :)
I bless you today
with eyes to see them and hearts to recognize them
-
the blessings in disguise. Eucharisteo.
Psalm 118:24 (amp)
"This is the day which the Lord has brought about;
we will rejoice and be glad in it!"

I desire to recognize what is my part of the "manic" in Mondays, and do what I can to change it.

I desire to live abundantly in the Mondays.

I desire to thrive in each day; to dance them in along with the sun.
(Subscribers, you can click here to com

e

on over to read more

encouragement


linked up by

other women in this community.)

----------------------------------------