Welcome to the eighth week
of our Marriage & Mommyhood

L

ink-

U

p Series!!



Kayse and I are so glad that you're joining us! Every Wednesday, we meet here to gather and encourage one another in our roles as wife and mommy. We welcome you to link up your posts on marriage, motherhood, or balancing the two!! For more details, visit our main Marriage & Mommyhood homepage.
You

can also interact with us throughout the week on twitter and instagram, using the hashtag: #marriageandmommyhood
Find all of the posts in this series here.
Grab our

b

utton: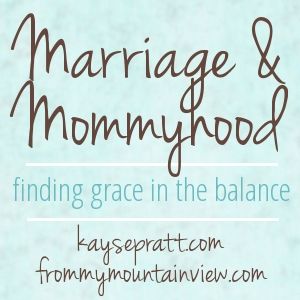 --------------------------------------
A Super-Woman's perspective is based on what is seen
an
Abiding Woman
's perspective is based on what is unseen
2 Corinthians 4:18 (amp)

Since we consider and look not to the things that are seen but to the things that are unseen; for the things that are visible are temporal (brief and fleeting), but the things that are invisible are deathless and everlasting.
"How often does our lack of imagination or faith cause us to make the impossible become our truth of convenience? We take the line of least resistance when we give up without really trying. Thus the impossible becomes merely the untried. We become earthbound in our focus when we disconnect from the Kingdom where all things are a possibility." --

Graham Cooke
I choose to live in the Kingdom of possibility.
It's so easy to only see what is before our physical eyes, especially when what's going on is rough. It's like I'll get tunnel vision to where that's all I can feasibly see ahead.
But you cannot see the light at the end of the tunnel if you're looking in the wrong direction.
A dear friend told me this week some incredibly true words:
Just because the physical appearance of hope is not easily seen,
does not mean it's not there right before you in all abundance.
"Worship enables us to both reclaim and then maintain our inner territory. It opens our heart and renews our mind in Jesus."

--

Graham Cooke
--------------------------------------
It's your turn!

Just enter the link to your marriage, mommyhood, or "Seen VS. Unseen" post using the widget below, and join us! (Subscribers, you can

click here

to come on over and join the fun!)