Welcome to the sixth week
of our Marriage & Mommyhood

L

ink-

U

p Series!!



Kayse and I are so glad that you're joining us! Every Wednesday, we meet here to gather and encourage one another in our roles as wife and mommy. We welcome you to link up your posts on marriage, motherhood, or balancing the two!! For more details, visit our main Marriage & Mommyhood homepage.
You

can also interact with us throughout the week on twitter and instagram, using the hashtag: #marriageandmommyhood
Find all of the posts in this series here.
Grab our

b

utton: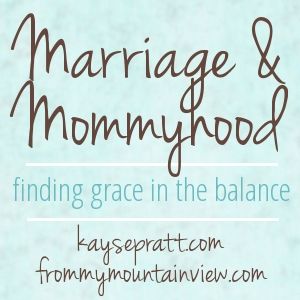 --------------------------------------
A Super-Woman expects perfection from herself and others
an
Abiding Woman
practices grace with herself and others
For the kingdom of heaven is like the owner of an estate who went out in the morning along with the dawn to hire workmen for his vineyard.

After agreeing with the laborers for a denarius a day, he sent them into his vineyard.
I'm an all or nothing kind of person. Go big or go home. If you want something done right, you better do it yourself. That kind of stuff. Problem is that none of this is actually

coincides

with

Truth.
And going out about the third hour (nine o'clock), he saw others standing idle in the marketplace;

And he said to them, You go also into the vineyard, and whatever is right I will pay you. And they went.

He went out again about the sixth hour (noon), and the ninth hour (three o'clock) he did the same.

And about the eleventh hour (five o'clock) he went out and found still others standing around, and said to them, Why do you stand here idle all day?

They answered him, Because nobody has hired us. He told them, You go out into the vineyard also and you will get whatever is just and fair.
These men stood out all day, knowing that whatever they worked

, even if only an hour,

would be worth it to them. I struggle with feeling the motivation to try if the entire circumstance

i

sn't ideal or

how

I think it should happen or appear. Honestly, many times in my life I would have been one who just went home if I didn't get chosen for work at the beginning of the day.
Matthew 20:8-14 (amp)
When evening came, the owner of the vineyard said to his manager, Call the workmen and pay them their wages, beginning with the last and ending with the first.

And those who had been hired at the eleventh hour (five o'clock) came and received a denarius each. Now when the first came, they supposed they would get more, but each of them also received a denarius.

And when they received it, they grumbled at the owner of the estate,

Saying, These [men] who came last worked no more than an hour, and yet you have made them rank with us who have borne the burden and the scorching heat of the day. But he answered one of them, Friend, I am doing you no injustice. Did you not agree with me for a denarius? Take what belongs to you and go. I choose to give to this man hired last the same as I give to you.
"Better late than never" has been one I've struggled with grasping.

Especially when arriving

somewhere late.

Especially when

something is accomplished later than I had hoped or

had higher expectations of myself

or others

to do.

"

So what if I got it done... it was a week later than I planned!"




"So what if my husband did an awesome job at cleaning his tools off the front porch so the kids could have a covered outdoor play area... I

've been begging him to do it for a month!"




"So what if my eight year old listened to my instruction this time... she's disobeyed all day!

"
Matthew 20:15-16 (amp)
Am I not permitted to do what I choose with what is mine? [Or do you begrudge my being generous?] Is your eye evil because I am good?

So those who [now] are last will be first [then], and those who [now] are first will be last [then]. For many are called, but few chosen.
There is a difference between striving for perfection and striving for excellence.

While striving for perfection is legalistic in nature and quite unattainable, excellence is striving to be better or more than we already are.
striving for perfection = always miserable




striving for excellence = continual motivation as you

see

yourself grow and how far you've come
"I am careful not to confuse excellence with perfection. Excellence, I can reach for; Perfection is God's business." -Michael J. Fox




"The pursuit of excellence is gratifying and healthy. The pursuit of perfection is frustrating, neurotic, and a terrible waste of time." -Edwin Bliss




Striving for excellence and not perfection

allows us to have a Kingdom view through grace

, not only of ourselves but those around us.




But how can we do that?
Philippians 4:8 (amp)

For the rest, brethren, whatever is true, whatever is worthy of reverence and is honorable and seemly, whatever is just, whatever is pure, whatever is lovely and lovable, whatever is kind and winsome and gracious, if there is any virtue and excellence, if there is anything worthy of praise, think on and weigh and take account of these things [fix your minds on them].
1 Corinthians 12:31 (amp)

But earnestly desire and zealously cultivate the greatest and best gifts and graces (the higher gifts and the choicest graces). And yet I will show you a still more excellent way [one that is better by far and the highest of them all—love].
After explaining excellence, Paul moves immediately into the well-known "love chapter," 1 Cor 13! We can't do anything of excellence without putting love into it!
My simple prayer for you,

my friends,
along with myself

for

this week is this:
Oh, Papa - Please give me Your Kingdom view of myself and those around me that is absolutely riddled with grace. In Jesus' name I pray

.
--------------------------------------
It's your turn!

Just enter the link to your marriage, mommyhood, or "Perfection VS. Grace" post using the widget below, and join us! (Subscribers, you can

click here

to come on over and join the fun!)