Welcome to the fourth week
of our Marriage & Mommyhood

L

ink-

U

p Series!!



Kayse and I are so glad that you're joining us! Every Wednesday, we meet here to gather and encourage one another in our roles as wife and mommy. We welcome you to link up your posts on marriage, motherhood, or balancing the two!! For more details, visit our main Marriage & Mommyhood homepage.
You

can also interact with us throughout the week on twitter and instagram, using the hashtag: #marriageandmommyhood
Find all of the posts in this series here.
Grab our

b

utton: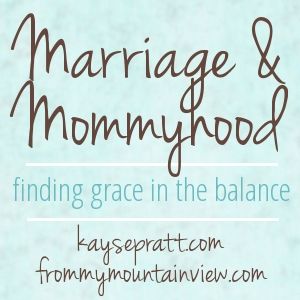 --------------------------------------
A
Super-Woman
's peace is found in her perfect
environment (or circumstance)
an
Abiding Woman
's peace is found in Jesus
in the midst of any storm.
I planned to write about peace tonight long before I totally, utterly, and completely lost mine today.
Funny how that works isn't? You think you have something to say that will help people, and God is like, "But oh, you see I want to teach you something different about it today." Now I'm sure to write from a different point of focus than I originally thought. Good one, Papa. Good one. ;) So here goes...




I became totally, utterly, and completely focused on a circumstance that threw. me. for a. loop. today the moment the words came from my husband's lips, reaching my ear through my cell phone.




No one died.

No job lost.

Not even a sudden financial plunder.




So what in the world happened to so easily throw me so totally, utterly, and completely off course?




Plans changed.

Really.

That's all.




In all of three seconds I allowed myself to be consumed by frustration over the fact that plans were no longer ideal, were now actually an inconvenience, and I would need to re-plan the whole day to make it work.




Did I mention that I gave him an ear-full; the one who came to me after making an honest mistake that caused, what I considered at the time, a huge mess? Yep, real honoring to my beloved in that moment. * FYI - I'm writing this after asking for his forgiveness for my reaction to him and receiving it; all is well on the home-front. ;)*





I traded peace and self-control away

for the satisfaction in the moment of telling him exactly what I thought.




I traded peace and self-control away for the satisfaction of having the "right" to be effected by my circumstance.





People will fight for their right to suffer.





And stepping out of God's perfect peace to deal with a hard circumstance on our own is exactly that: suffering. We will fight our way away from the Spirit making alive His Word in us through His fruit because we feel that we have the right to freak out.


The following

is a small excerpt from "The Gift of Peace" by John MacArthur.

You may read it in its entirety here.




The Hebrew Bible uses a familiar but significant word, shalom. In its purest sense, shalom means "peace." The connotation is positive.

Most people in our world don't understand peace as a positive concept. All they know is the negative aspect of peace, which is merely the absence of trouble. The definition of peace in many languages of the world illustrates that... (instead of conveying) the idea of something that is active and aggressive, not just a rest in one's own heart away from troublesome circumstances.




The biblical concept of peace does not focus on the absence of trouble. Biblical peace is unrelated to circumstances; it is a goodness of life that is not touched by what happens on the outside. You may be in the midst of great trials and still have biblical peace. Paul said he could be content in any circumstance; and he demonstrated that he had peace even in the jail at Philippi, where he sang and remained confident that God was being gracious to him... Likewise, James wrote, "Consider it all joy, my brethren, when you encounter various trials" (James 1:2).




Where does a man find the kind of peace that is not just the absence of trouble--the kind of peace that cannot be affected by trouble, danger, or sorrow? It is ironic that what is surely the most definitive discourse on peace in all of Scripture comes from the Lord Jesus on the night before He died in agony. He knew what He was facing, yet He still took time to comfort His disciples with the message of peace:

John 14:27 (amp)

Peace I leave with you; My [own] peace I now give and bequeath to you. Not as the world gives do I give to you. Do not let your hearts be troubled, neither let them be afraid. [Stop allowing yourselves to be agitated and disturbed; and do not permit yourselves to be fearful and intimidated and cowardly and unsettled.]

The peace Jesus is speaking of enables believers to remain calm in the most wildly fearful circumstances.

It enables them to hush a cry, still a riot, rejoice in pain and trial, and sing in the middle of suffering.

This peace is never by circumstances, but instead affects and even overrules them.
My prayer for you,

my friends,
along with myself

for

this week is this:
I am not a victim to my circumstances! I will not willingly trade away Your peace that passes all understanding for my right to react unbiblically. Speak to my heart as You show me in Your Word the difference between acknowledging the truth of what I'm feeling and taking it to You VS. letting myself fly off the handle in any area that is opposite of the fruit of Your Spirit. And bless me, Papa, with Your grace (unmerited favor) to extend to myself when I've reacted outside of faith, and strength to make it right and move on and not dwell there. Truly teach me how to actively and aggressively pursue Your peace. You are faithful and wonderful, my God, whom I adore. AMEN!!
--------------------------------------
It's your turn!

Just enter the link to your marriage, mommyhood, or doing vs. being post using the widget below, and join us! (Subscribers, you can

click here

to come on over and join the fun!)