Welcome to the second week of our Marriage & Mommyhood Link-Up Series!!
Kayse
and I are so glad that you're joining us! Every week we'll be focusing on a different topic that has to do with being a Super Woman VS. an Abiding Woman.
We know that we can only balance and fill our roles well when we're walking closely with our Savior.
We'll be delving deep, laughing freely, and sharing honestly
as we reach towards this common goal.
You are welcome to link up a post on this week's topic, or a post that you have written on the general topics of marriage and mommyhood.
All posts need to have a positive focus, as our goal is mutual encouragement.
If you're new to linking up with us
, I encourage you to read the short "Who, Where, and What" details pertaining to this party on our
Marriage & Mommyhood Homepage
.
;-)
Y
ou
can also interact with us throughout the week on twitter and instagram, using the hashtag: #marriageandmommyhood
Grab our button: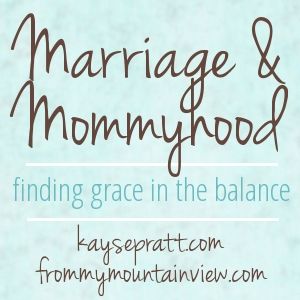 Find all of the posts in this series here.
--------------------------------------
Week Two: Fear of Man VS. Fear of God
A

Super-Woman

tries to impress others, while
an

Abiding Woman

seeks to please the Lord.
I genuinely want people to think I'm good at being me.
That I'm good at being wife to Aaron.
That I thrive at being our childrens' momma.
That I'm efficient at keeping home.
That me and God are super tight.
I want people to think I'm good at being me because I want to be valued for what I have to offer.
But what about the many, many days that I am not able to "perform" these roles well?
I set such high expectations for myself, that on these days . . .
Where is the balance? Why is it that either I'm performing well or consider myself a failure at being me?
I believe this lie that everything has to be "just so."
I believe that I must always exhibit the perfect joy and thankfulness of having a husband that loves God and that our children are blessings from the Lord.
And while it is true that I should be joyful, thankful, present in every moment, acknowledging His blessings . . . life gets hard.
And when life gets hard, requires a ton of work, is exhausting, feels desperate and sometimes hopeless, all while dealing with miscommunications and discipline - it makes me feel like
I'm keeping a dirty little secret that must be kept hidden --
My life is not all gravy & I am not Super Woman.
And it's okay.
During all those verses about being thankful and blessings and such,
God never told me that I have to be or even appear perfect.
I genuinely want people to think I'm good at being me . . .
But all I am is me, I am the only person I can be, and it does not surprise God when I am; nor am I capable of failing at it (being me).
Psalm 19:14

Let the words of my mouth and the meditation of my heart be acceptable in Your sight, O Lord, my [firm, impenetrable] Rock and my Redeemer.
why is it still a total embarrassment to me when someone catches me in an "off" moment or unpolished? God forbid someone makes an unexpected visit to my home and dishes are strewn across the entire kitchen counter! This might be where some people might try to hide as much of the embarrassment as possible inside the oven and pantry before opening the door with a smile and welcoming them in; then proceed to apologize for all the imperfections (truly apologizing for the fact that we, in all actually, LIVE HERE).
I genuinely desire God to see a heart after Him, and not after the appearance of having it all together.
Matthew 6:33

But seek (aim at and strive after) first of all His kingdom and His righteousness (His way of doing and being right), and then all these things taken together will be given you besides.
Colossians 3:23-24

Whatever may be your task, work at it heartily (from the soul), as [something done] for the Lord and not for men,

Knowing [with all certainty] that it is from the Lord [and not from men] that you will receive the inheritance which is your [real] reward. [The One Whom] you are actually serving [is] the Lord Christ (the Messiah).
My encouragement
to you, my friends,
along with myself for this week is this:
Be really intentional. Be really loving. Close your eyes and abide in His grace that is constantly extended to an imperfect soul, seen through the perfect and pure blood of Jesus. He sees your best you, His original masterpiece.
--------------------------------------
It's your turn!
Just enter the link to your marriage, mommyhood, or doing vs. being post using the widget below, and join us! (Subscribers, you can
click here
to come on over and join the fun!)