Welcome to the first week
of our Marriage & Mommyhood

L

ink-

U

p Series!!




Kayse

and I are so glad that you're joining us! Before we hop right in to the following post, let's chat about this whole blog hop thingy.

;-)
Who is it for?

This weekly link-up is for all of us. Every woman who is struggling to balance the blessings of being both wife and mommy, and who could use a little grace and encouragement along the way!




When will it be?

Every Wednesday!!




Where can we find it?

Right here on

From My Mountain View

, and at Kayse's blog (

kaysepratt.com

)!! We'll both be your hosts every week, so you may link up via the inlinkz widget on either of our sites! We'll be writing separate posts on each topic so I encourage you to interact with both of us. You can also interact with us throughout the week on twitter and instagram, using the hashtag: #marriage&mommyhood
What will we write about?

Every week from October 2nd - December 2nd, we'll be focusing on a different topic that has to do with being a Super Woman VS. Abiding Woman. We know that we can only fill our roles well when we're walking with our Savior, and we'll be diving into what that looks like each week! We'll be delving deep, laughing freely, and sharing honestly as we reach towards this common goal. You are welcome to link up a post on the topic, or a post that you have written on the general topics of marriage mommyhood. All posts need to have a positive focus, as our goal is mutual encouragement.
Grab our

b

utton: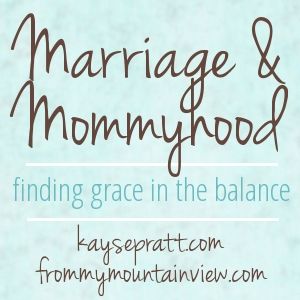 Find all of the posts in this series here.
--------------------------------------
My encouragement/challenge to you,
my friends, this week is this:
As you're interacting with your husband and your children,
when "stuff" arises (and it will)...
Be still.
Like literally, be quiet. Even if it's only for 3 seconds.

You don't have to close your eyes in that moment to talk to Your Savior that has redeemed you from our soulish/fleshly reactions.

Just take a slow breath and acknowledge His glory rejoicing over you with singing.
Zephaniah 3:17 (AMP)


"The Lord your God is in the midst of you, a Mighty One, a Savior [Who saves]! He will rejoice over you with joy; He will rest [in silent satisfaction] and in His love He will be silent and make no mention [of past sins, or even recall them]; He will exult over you with singing."
You are a human-being, not a human-doing.
Just Be...
Please note that it's been 3 months since I played and had zero callouses on my fingers as I recorded this on a whim

...

on my phone

...

at midnight. BUT God would just not leave me alone!!

LOL

He just kept tenderly prompting that this song to be included was what

He

desired for me to give Him and it didn't have to be awesome. I'm sort of a perfectionist when it comes to music, so this (trusting God with this and letting go of the quality) was really hard for me. But I love Him more than being Super-Woman.

..



I wanna share with you the love, joy, freedom, and light that I know within Myself.

I've created you to be face to face with Me in close relationship, deeper to delve.

Come discover our relationship is not about performance.

I do love you.




Just be...with Me

You don't have to have it all figured out to be with Me.

Just be with Me.




You will find freedom in the knowing that you cannot offer to Me...

Anything that can add or take away from who I AM, for I AM: Me.

My completeness alleviates any pressure you feel to perform and effect.

Just offer Me your love and with Myself in you...I'll make that love perfect.




Just be...with Me

You don't have to have it all figured out to be with Me.

Just be with Me.




Trust Me.

That's all I ask of you.

When you start to sink,

Let Me rescue you.

Let Me show you the depths you can be.

Give Me more of you and I'll fill you and give you more of Me.




You don't have to have it all figured out.

Just be...with Me

You don't have to have it all figured out to be with Me.

Just be with Me.




©

"Just Be" music and lyrics by Rebecca Digrugilliers
--------------------------------------
It's your turn!

Just enter the link to your marriage, mommyhood, or doing vs. being post using the widget below, and join us! (Subscribers, you can

click here

to come on over and join the fun!)