Happy Monday beautiful ladies!!!
There are so many beautiful things about Mondays . . . Here at From My Mountain View, every Monday, we band together and renounce/reject manic Mondays. Right here is a perfect place for us to encourage one another and be encouraged!
Moms Against Manic Mondays is a place you can share a post or article on your blog about Mondays, encouragement, joy, pressing on, etc, etc. :)

To share a link to your post just submit your link and title using the widget at the end of this post (it's easy)!

Remember to link your blog post back here by adding our adorable button found below, courtesy of Plumrose Lane.
And then you need to visit the person who linked up before you & encourage them in their comments (which is the heart of this community). :)
Moms Against Manic Mondays - A Day to Encourage & Be Encouraged.
Let's press on together as we dance in the mornings. :)
--------------------------------------



This was posted by

Paula

over at Hopeful Future. Thanks so much

Paula

for joining the link-up and for your super encouraging words! Feel free to grab my button from the side-bar that reads, "I Was Featured On From My Mountain View," to post to your blog or this week's Moms Against Manic Monday post!

:)
Here are some excerpts from what Paula shared:
When I was in counseling last year my counselor said something that I will probably never forget. I had just "unloaded" all these negative feelings. A HUGE amount of fears, and insecurities that had arisen during the week because of different things. (ex. "I feel unloved, I'm all alone, no one cares" etc. etc.)She smiled at me in an understanding way and then said "and what is the truth of that?" Then she had me think through everything I had said and tell her what the reality was. NOT what my feelings were, but what was truth. Emotions can be such tricky things. At the time I was recovering from PTSD and depression so my feelings and emotions were all over the place! In that moment she taught me a lot about separating feelings from truth.

Growing up, I was taught to ignore all negative emotions. Anything that wasn't happy or "good" was thrown out. I know now that this is very unhealthy and not a realistic way to live. Eventually the feelings and emotions that I had tried to hide caught up with me, and it made for a rough few years having to deal with and process 1,000 emotions that had been covered up for years. When I learned that I was "allowed" to feel emotions I became an extremely emotional person. My emotions controlled me and it was not a fun place to be. If I felt unloved, it didn't matter if my hubby was showering me with love, my emotions weren't there and they were king!

Slowly, I have learned to handle my emotions in a healthier way. And that one conversation with my counselor helped a lot!
Paula continues...
When I'm feeling down or having a "pity party" it is so helpful for me to sit back and answer that one simple question "what is the truth?". It helps keep my perspective right, it helps me to acknowledge what I'm feeling, without letting the emotions take over or control my life. It helps me to look to God in the midst of a hard day, because He defines truth.
This was wonderful.

So hop on over to be encouraged and find enjoyment in the entire read for yourself! :)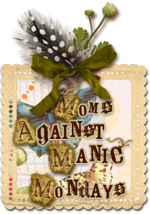 Also linked to with thanks:

Proverbs 31 Woman, Multitudes On Mondays, Better Mom Mondays, Playdates at the Wellspring, Momma Moments Mondays, What Joy Is Mine Monday's Musings, Visionary Womanhood, Welcome Home, Gratituesday, On Your Heart Tuesday, Titus Tuesdays, Thankful Homemaker Tuesdays, Teach Me Tuesday, Domestically Divine Tuesday, On Your Heart Tuesday, Raising Homemakers, Women Living Well Wednesdays, Wise Woman Wednesdays, Works For Me Wednesdays, Encourage One Another Wednesday, Wisdom Wednesday, Keeping Home Wednesday, Walk With Him Wednesday,
Give thanks to the Lord! His love endures forever!
...counting more of His endless love with A Holy Experience...