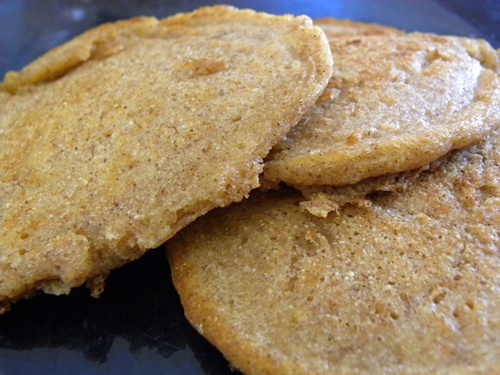 A great deal has changed in the nutritional lifestyle of our family over the last few months.
No more processed, bleached, or refined
anything
(this has been a
process of change
, for sure). I have spent many hours studying (ya know, when I don't have anything else important to do, *wink*), and
just one
conclusion I believe I have come to is this:
Our "dairy" is more than a far cry from what God intended with "a land flowing with milk and honey."
It's not all bad (organic, raw dairy seems to really be awesome for you). However, I've also learned that there are many a dairy substitute that provides an adequate and comparable nutritionally-rich powerhouse to your table. Specifically coconut and almond (NOT soy).
I made these today for the first time ever, and my whole family ate them up!
My husband was more than a bit nervous, this man who has been completely on board with all of the nutrition/holistic changes that we've been making together in our family's lifestyle; but with the first bite his doubts were laid to rest with a drawn out: "Good..."
I just used our family's
already-seen-many-a-mixing-bowl-and-skillet-in-our-home
recipe, and just changed the ingredients to suit our holistic changes! Coconut milk is not near as thick or creamy as dairy milk, so I should have used less initially, but didn't. So I ended up having to add additional flour to get the texture right. So this is the recipe that I sort of "landed on."
Adjust as needed in your kitchen. :)
Ingredients:
2 eggs
1 1/4 cups coconut milk
2 Tablespoons melted coconut oil
2 cups spelt flour (freshly milled whole berries are best)
4 teaspoons agave syrup
4 teaspoons baking powder
1 teaspoon baking soda
1 teaspoon salt
Directions:
In a large mixing bowl, combine the flour, baking powder, baking soda, and salt. In a small mixing bowl, beat eggs, add coconut milk, agave syrup, and melted coconut oil.
*UPDATE* I have since been advised to add some lemon juice to react with the baking soda to add some fluffiness. I used 1 Tbsp recently and that was nice. Use your discretion. :)
Pour wet ingredients into the large mixing bowl of dry ingredients. Stir mixture till blended but slightly lumpy. ;) Lightly grease a griddle of heavy skillet with (real) butter, pour about 1/4 cup batter on pan for each pancake. Turn over when the pancakes have a bubbly surface and the edges are slightly dry. Refrigerate any leftover batter for use the next day (bring to room temperature prior to baking).