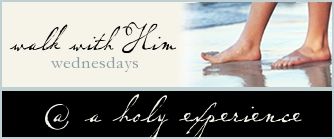 "Also on that day, the Master for the second time will reach out to bring back what's left of his scattered people." -Isaiah 11:11 MSG
Today I praise the God of second chances.
I praise Him for the promises He gives. I praise Him for the time that I walk into the land that was promised to me. And I praise Him for the wilderness that I often find myself in between the promise given and the promised land. It is here He prepares me. It is here He grows my trust in Him and His Word to me. It is a good Word.


"So shall My word be that goes forth out of My mouth: it shall not return to Me void [without producing any effect, useless], but it shall accomplish that which I please and purpose, and it shall prosper in the thing for which I sent it." -Isaiah 55:11 AMP
It is here in the wilderness between, that He also grows my honor towards receiving that promise. It is here that I learn to cherish His promised land as one with nothing discovers a priceless pearl in an oyster after searching and searching and searching. With dirty hands, peaceful heart, and a wise spirit will I arrive blessed.