Proverbs 31:15 "She rises while it is yet night and gets [spiritual] food for her household..."
I have been rising before the sun recently like I've known that I should but did not want to because I really have a relentless, passionate love for sleep. But recently got smacked in the face (in a good way) with the realization that I have an even greater relentless, passionate love for being a mother and homemaker, and raising Godly daughters that have a relentless, passionate love for Him.
Sarah Mae
sums up my heart on this
here
:
"Let me tell you about the only thing I'm eager about in the morning: coffee. You see, my brain stays sleeping long after my body is up. The truth is, as I pour my babes some cereal or scramble some eggs, I find that I'm mostly in robotic mode. I've got nothin' substantial to offer anyone before the brain gets moving, and sadly, sometimes that isn't until around mid-morning (what am I going to do when I homeschool middle-schoolers…and have to think?!). This is me, naturally. If I'm to have an eager mindset towards the work of my day, it has to painstakingly purposeful. Discipline is hard; self-discipline is even harder...Without preparation, I've lost the day before it's begun. I'm toast. And so is my family, because throughout the day, I set the pace. If mama's a mess, everything's a mess (and the babes go nuts)."
Proverbs 31: 17 "She girds herself with strength [spiritual, mental, and physical fitness for her God-given task] and makes her arms strong and firm."
I have been working out consistently and
seeing results
from my efforts! I am no longer
scheduling in
time with my God but rather scheduling around that time of drawing nearer to Him and learning His heart for me and what His voice sounds like. And have begun
reading a book
that challenges me mentally (plus beginning homeschooling a 15 year that is not my child has had its bouts of challenges where my memory of academics are concerned). I. Am. Growing. I am girding myself with strength of every kind and OH! does it feel good!

Proverbs 31:22b "Her clothing is of linen, pure and fine, and of purple" & Proverbs 31:17 MSG "First thing in the morning, she dresses for work, rolls up her sleeves, eager to get started."

I have been getting dressed!
"Comfy pants and sweatshirts are a magnet to me on cold days. What is better than being all cozied up in soft, frumptastic, sweats on a cold day? I bet my husband would love to stay curled up in his comfy clothes and slippers, but nope, that man of mine is up and out of the house into the brrrr… dressed and ready to work. Ready to work. The lure of the cozy keeps me sedated from the reality that I do not work well if I'm in sweats…in fact, I'm just that, sedated. Knocked out in comfy. All I want to do is stay burrowed in my frumptastic warmth. And I can just say, there are days for that. Snow days. Big, fluffy snowflake, hot chocolate, and Lassie days. Oh yes. But those days are the exception. The something special to look forward to. Today, today we work. We care for our domains and the people in our care. We get dressed, and get going. And we show our babes how to do the same."
Proverbs 31:27 "She looks well to how things go in her household, and the bread of idleness (gossip, discontent, and self-pity) she will not eat."
Time Warp Wife
and my dear friend,
Carron
inspired my daily and weekly routines (that are actually DOABLE!!). Check it out here: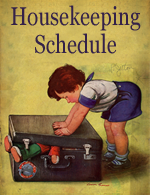 Proverbs 31: 11-12 "The heart of her husband trusts in her confidently and relies on and believes in her securely, so that he has no lack of [honest] gain or need of [dishonest] spoil. She comforts, encourages, and does him only good as long as there is life within her."

I am very good at being in charge. I am good at being a boss. But that's not what my family needs of me. I am learning how to be what my husband needs. Not to cower and "submit" in an ungodly way (taking scripture out of context and applying some old religious teaching without question) and to think that "someone needs to be in charge"... so that might as well be me! But to recognize that no one is meant to be in charge. We are a team. There are spiritual, mental, emotional, and physical things Aaron and I both need from each other. I am learning what those things are, how he receives them (verses how I think he should receive them that would better suit me, and that would take less effort on my part. *Side-note: We are a selfish people, love is difficult and requires much from us, but is so worth the climb.*), and I am slowing making my focus towards giving him that sacrificial love (as he learns to give to me in how I receive them as well).
"Lord, teach me to walk by faith with each step of my day and my life. Remind me daily of my purpose as woman gifted by you with talents that are to be faithfully used for you…first for my family and then for the world. Keep me humble. Help me to be disciplined in the mundane parts of life, and help me keep my eyes on you, always."